When you search for your brand name on Google, you get results showing results from your brand. You'll want to rank first for your branded search whether you're a new company or a giant. Nevertheless, even for your own brand, it is not always easy to rank highly.
What are Branded Keywords in SEO
Branded keywords are those that appear in a search engine when accompanied by the name of your organization, business or brand, such as 'Shrushti.' This can include other words too, like 'Shrushti Digital' or 'Shrushti Digital Agency'. Brand searches are fundamentally searches that include your brand.
Search terms without your name in them are called non-branded searches. If we follow the above examples, we can find them as "agency", "Vadodara agency" or "agency Vadodara".
Ready to Chat About
Bounce Rate​
How do I find Brand Keywords
Suggestions and Autocomplete on Google
Look up your company on Google. You can find a bunch of suggestions by searching for your business name without hitting enter.
In the following field, type your company name followed by a, b, c, etc. You will see more suggestions from Google. These are suggestions based on past searches for them.
Results Related to your Search
In addition to the search results page, you can find branded keyphrases by looking to the "Searches related to" section. These will resemble the suggested phrases you have already found if you search for the brand. However, you'll gain more insight by searching for one of those suggested phrases.
How important are branded keywords?
For your strategic planning, how important is this concept? Your website and adopted strategies can improve as a result of these benefits. We have listed the most relevant reasons for the importance of branded keywords so that you have no doubts. Take a look!
In order to create an effective content marketing campaign or to get the most out of a paid media campaign, proper targeting is essential. Your material will have a greater impact on your persona if it is more targeted. 
With better messaging and better alignment with audience expectations, you have a better chance of converting your audience.
Communications with your audience are becoming more accurate as a result of the trend. As a result, you don't have to focus on the interactions that don't add much to the challenge of loyalty, such as sales calls that aren't directly related to your customer.
Knowing what your audience's needs are
It is important to understand what your audience's needs are in order to provide a positive user experience. By using branded keywords to attract more specific traffic to your pages, you increase visitor satisfaction and conversions by ensuring that your audience is satisfied and more likely to convert.
Taking Advantage of New Opportunities
A new segment of performance can be created when your audience becomes increasingly interested in searching with branded keywords.
Having so many possibilities allows you to explore options you would have never thought of.
Identifying and Fixing Product and/or Service Flaws
It is also very possible to search for and collect feedback and evaluations from customers regarding your products and services based on branded keywords. Criticism and complaints are the two types of issues that should be identified.
It is important to change a particular product when that product receives a lot of negative feedback. On the internet, you can easily track the conversation about your brand.
The best way to improve your digital presence—and achieve this in a cost-effective manner—is to understand what terms most relate to your products and services.
Monitoring competitor performance
In order to create more effective campaigns and strategies, you should also keep an eye on your competition.
When it comes to identifying the most relevant products and services of your competitors, searching for their branded keywords is the best strategy-either to understand what the company's most desired aspects are or to find out what their most desired traits are.
In addition, it can be extremely helpful for paid media strategies, since it enables you to determine which keywords are being searched by your competitors, and thus plan campaigns accordingly.
You stay up-to-date with such market monitoring in order to ensure you don't lose market share.
Should you Bid on Branded Keywords?
How does Brand Name Bidding Work?
A brand name bid is when you bid on the name of your own company in your PPC campaign. Your ads will appear at the top of search results when your brand name is searched for – or included in a search query: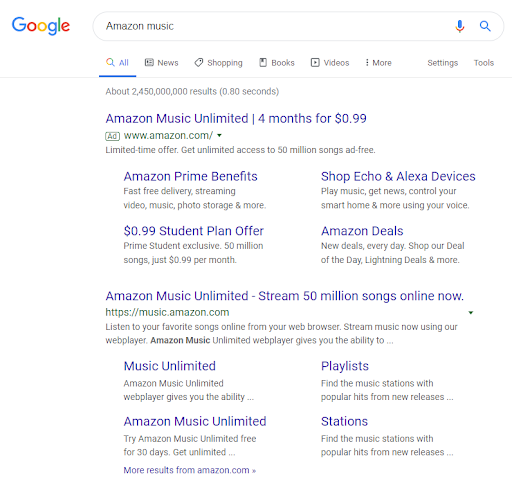 What are the benefits of brand name bidding?
1. Direct traffic to a post-click landing page
Upon clicking your organic listing in a search for your brand name, someone is likely to be directed to your homepage. It's likely, however, that someone searching for your organization using your brand name is doing so because they're close to making a buying decision. Keep in mind to be sure of capturing buyers with high intent who are deeper into the buying cycle. 
That's why bidding on your own brand is such an easy way to promote campaigns and point traffic to specific pages and relevant promotional pages. Send prospects to your product pages rather than your homepage, which isn't optimized to convert well.
The look of the search results is more likely to be influenced if you bid on your own brand. Your title, description, and other meta tags can be optimized to improve your rankings and click-through rate on organic SERP listings. PPC ads, however, allow you to control more information.
You can completely control the message you communicate to users and how your brand is represented with brand name bidding. You can, for example:
Mention a recent promotion

Include a clear call-to-action

Detail is essential
Furthermore, your advertising message can be changed whenever you choose. You would need to wait several days before an organic listing is updated if you want to change the title or description. A paid ad can, however, be changed immediately, and you can even set up a schedule so that your ads appear at specific hours and/or on certain days.
Running branded A/B tests with your ad copy can help you discover what messaging resonates most with your audience. Your post-click landing pages can also be A/B tested to see what elements, designs, etc. convert best.
3. Make it easier for users to find information in organic listings
The following ad extensions are available to advertisers on Google, which can be customized, to enhance their ads and provide more information to users: site links, structured snippets, and promotions.
It is suggested that you create 100% more ad extensions than are needed. 
Besides the brand search context, Google also considers the device type used, the keywords entered, and the location where the search originated from.
4. Ensure that your Brand Appears at the Top of the SERPs
If the organic and paid search results are equally powerful, why settle for ranking first when you could rank first and second?
Taking up more real estate on the search result page when you bid on keywords and company names associated with your brand will ensure that you dominate the top of the search results. A PPC strategy that capitalizes on the real estate above the fold becomes imperative when you consider the volume of people who interact with search results above the fold.
In addition to that, owning as much space/real estate as possible on page one of SERPs will build credibility and lead to conversions. Try capturing PPC ads, organic listings, social media, and the knowledge panel on the side. 
Look how SEMrush does it:
The ad at the top is contributing to SEMrush dominating page one, along with the knowledge panel on the right side and organic results at the bottom.
You also need to consider how high your brand name can rank in review and news websites, and how your competitors could bid on your name. Having your brand appear at the top of the SERPs will prevent you from being overshadowed by negative reviews, news, or competitor ads.
5. Take on your Competitors
Always make it a point to check if your competitors are bidding for your brand name. That's the last thing you will want right? A potential customer who is deep in the buying cycle chooses another brand over you because they bid on your brand name.  
In order to prevent this from happening, you should bid on your name.
You can increase your competitor's costs simply by bidding on your name if they bid on your branded terms or name. As a result, your ad will likely appear higher in the search results, have a higher CTR, and have a better Quality Score. Due to the fact that they have to increase their bids to compete for the same ad slot, you will lower their ad position, reduce traffic, lower conversion rates, and raise CPA.
As a result, if you fail to bid on your brand name or terms, your competitors have a cheaper and easier time outranking you and stealing your customers.
6. Cost-effectiveness is an Advantage
Keywords with brand names have a much higher likelihood of being cost-effective than non-branded keywords. You still have an advantage even if a competitor's brand bids on the name of your organization since it has a highly relevant post-click page.
As a consequence, your bid prices remain relatively low due to the Quality Score determined by this, CTR, and ad relevance. 
How do you use Branded Keywords
As well as monitoring your brand name, you should also look at what words people are typing next to your competitors' brands. Understanding online context enables you to:
Analyze which parts of your site are confusing to your customers (and figure out how to improve their experience)

Your website's content strategy should be such that it explains your product's features. Including search pages for brand keywords.

Recognize and address weak points (e.g. a particular product line that causes more complaints than others) in your product or service.

Find out your competitors weaknesses and target them.
You'll need to sort out the different keyword phrases that contain your brand name after you've created the list. You can then go on to create an excel sheet and label keywords based on the following further action :
Target this keyword with new content

You should create a section on your site targeted at this keyword or at the keywords in this group

Increasing the visibility of a web page or section of your site (Something that would make it easier for users to find it)

Introduce a feature, product, or service that your competitors aren't offering
You can utilize brand-focused keyword research for two major marketing tasks:
1. Plan on-site content (e.g. generate a FAQ section)
Do people ask Google questions about you and your brand? If so, you should rank above the rest of the competition for your brand name queries. Your on-site content marketing strategy should be based on the keyword research.
As long as you have a page for each query, you can rank for those terms too: 
Whenever users type in navigational queries, Google ranks official websites based on understanding of brands. Creating multiple pages addressing different keyword sets is all you need to do:
How to login/signing to ( Shrushti ) = Brand Name

( Shrushti) = Brand Name – reviews: User feedback

( Shrushti ) = Brand  Name – Cost

( Shrushti ) = Brand Name – Products Alternatives
If search engines want to rank these pages well, separate pages should be created with videos, screenshots, and relevant content. 
Keep an eye out for Google searches that may appear when people search for those terms if you are managing a larger brand.
2. Assess the Weaknesses of your Product (or those of your competitors)
Finding your product or service's weak points is also an important goal of brand-focused keyword research. Keywords too have modifiers that signal possible a crisis for reputation management or a poorly explained feature. 
These and similar words may be used as phrases:
Safety

Fraud

Viruses

Refunds

Alternates

Returns
In Google Suggest or keyword search results, these words usually indicate a high level of interest. These words indicate an urgent need for more attention.
Furthermore, this may indicate that your site has frequent technical issues, which might prevent your customers from using your site:
Use these words to monitor social media to prevent social media crises and bad user experiences.
To engage quickly, explain, apologize or take any other necessary action, you must be the first to hear someone use your brand name with it. 
A good opportunity for competitive advantage may arise if you notice these during competitor research.
Monitoring and managing your accounts can be difficult, especially if you want to keep an eye on your competitors (which you should do, as it will open your eyes for sure). Getting the process scaled can assist.
To be a marketer means delegating tasks to the team. In order to create a more balanced result in your social media pages, you have to let go of some control.
Make sure other people have time to play with different search options and monitor results when you schedule blocks of time for them. Your effectiveness will dramatically increase, and you'll be free to pursue more lucrative ventures that will benefit your brand.
Perhaps you'd like to hire someone to handle this process on your behalf. For your company's success and stability, you need to pay attention to brand mentions and, more importantly, their context.
Branded versus Generic Keywords
Branded And Generic Keywords
Branded keywords fall under the category of keywords that are specific to your company, its products, or its services. Businesses with strong name recognition that impacts online search patterns are most likely to benefit from this type of keyword.
While generic keywords (like "marketing firm") have a much broader audience, they're also more expensive. Generically keyworded search terms help people find your business when they have yet to choose a specific brand or company, versus being found by people who know of your business already. 
In order to achieve success with your search and conversion efforts, you need to identify and optimize around these types of search terms. In order to optimize your search engine results, you must use both branded and generic keywords.
Search engines, such as Google, Yahoo, and Bing, are the places your readers will go no matter what terms they use. Because of this, it's imperative to discover and research ALL your business's potential keywords. 
The importance of long-tail keywords becomes apparent here. This is because these terms are more specific and longer.
According to research, 70% of online searches use long-tail keywords. Marketing experts are more likely to succeed with these keywords as they have a 36% higher conversion rate, meaning they provide consumers with the exact information they wish for.
Your search audience's preferences should also be considered when conducting a search.
Individuals try to narrow their search results by using longer search terms when they can't find the information they're looking for by using short terms. 
Eg: "red shoes with black laces" instead of just "red shoes". 
Having long-tail keywords as part of a marketing strategy is crucial.
Creating an extensive list of keywords alone is not enough. You need to build a solid search strategy based on targeting, relevancy, and diversity of keywords and keyword phrases, including branded, generic, and long-tail keywords. 
When you have the right analytics in place, you will find out what terms are converting visitors to leads and what terms are driving traffic. 
Creating a keyword strategy is one of the first steps to take towards your SEO strategy. Keywords are too important to be ignored. Branded keywords can place you one step ahead of your competitors, and make sure to target their keywords too. 
My name's Semil Shah, and I pride myself on being the last digital marketer that you'll ever need. Having worked internationally across agile and disruptive teams from San Fransico to London, I can help you take what you are doing in digital to a whole next level.