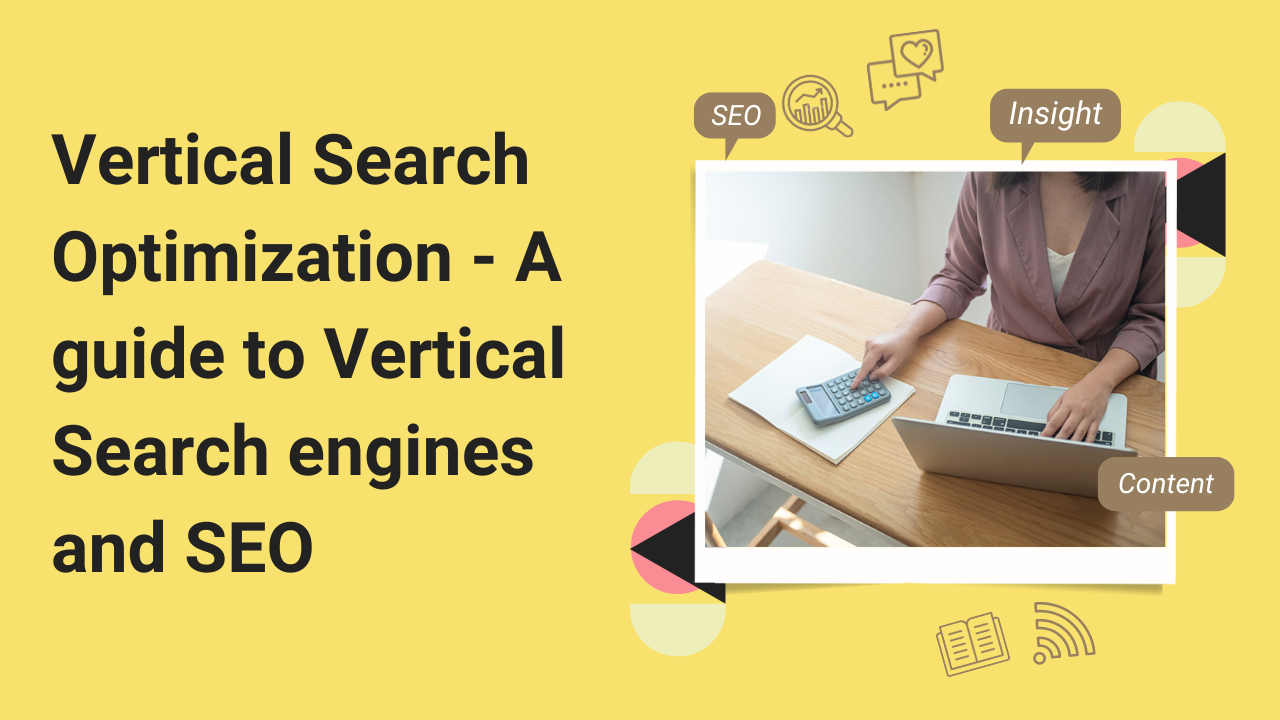 Search and user intent can generate different types of searches. There is the general search. Users make over 5 billion searches every day just on Google. There are many search engines apart from Google. On average, every person makes at least 3-4 searches every day. In a year Google alone crosses over a trillion searches. 
With that being said, Search engines have types of searches. Contextual search, where Google takes into account a user's previous searches into account to give better results. 
Similarly, vertical search helps users make a search in a definitive section. It can range from a blog to images, from videos to news. 
Let's understand what a vertical search is. 
What is a vertical search engine?
Simply put vertical search is a speciality search or a niche search made by a user. These search engines focus on a set amount of data. Google.com is a horizontal search engine, whereas Google Maps is a vertical search engine. Though it might be standard for search engines to offer image and news searches, they are distinct from the search engines' general functionality. 
Searches made inside apps, websites, and blogs are all vertical searches. 
Vertical search provides SEOs noteworthy opportunities. Higher placement in a vertical search result can also increase ranking in general search results, mostly which is above the traditional links dispensed by any search engine. 
Ready to Chat About
Vertical Search Optimization
What do vertical and horizontal search on different sites have in common?
When industry giants such as Amazon have a large app installed base, are way more convenient than general searches, are trustworthy, and provide value-added answers which are relevant then users will directly use such an app for a query. 
Content uploaded on the Vertical search engines has to be easily accessible and discoverable additionally it should match user intent how traditional searches do. No website can create an algorithm as advanced as Google, so other websites should make it easier to find out what criteria is used to rank. 
The vertical site should enable Direct Page Management. If they can't then they should enable data feeds through an Application Performing Interbase. An optimized database feed is comparable to optimizing a webpage. The only difference is that they are deconstructed into various sections of content, fields and tags. 
Advantages of vertical search
A vertical search has three main advantages than a traditional search engine:
Considerable accuracy owning to limited data/index

Faster reach to a search destination 

User friendly
Search engines are evolving and improving perpetually. Whereas a few years ago vertical searches were our best choice to make a specific search, now algorithms are so much more improved that search queries can show results from various indexes. 
Integration of images, shopping, news, flight timing, etc are all examples of a mixed search result. Because of the integration, SEO has become more complex than it already was. The website now has to be optimized for organic index.
Similarities between horizontal and vertical searches
Examining consumer intent and delivering targeted content

Solid content creation, compelling headline and detailed body content

Metadata and page markup

Creating convincing headlines and page titles

SEM

Good use of videos and images

API integration and XML feeds

Internal linking CTAs

Fast page load time and technical SEO 

Schema markup
Modus operandi: SEOs approach to vertical search (VSO) landscape?
SEOs should create a presence in vertical and social media sites relevant to the business they are optimizing. Sites such as Facebook, LinkedIn, Amazon, Twitter, etc. 

Always optimize all content and make sure the website as well as content is

mobile friendly

. 

Optimize images to decrease page load time. 

Manage tagging, social signals and Open Graph fields. 

Dive into the application zone and figure out if an app will be necessary for you.
Optimizing a vertical search is as important as any other landscape. Make sure to make a search tab available on your website, so that users don't feel lost and don't have to use the back button to navigate your website. Optimized vertical navigation can  help your website rank better on search engines. 
My name's Semil Shah, and I pride myself on being the last digital marketer that you'll ever need. Having worked internationally across agile and disruptive teams from San Fransico to London, I can help you take what you are doing in digital to a whole next level.