70% of marketers believe that SEO is better than PPC. Shopify on the other hand supports SEO too. If you have recently opened up a store on Shopify, it is advised to improve your SEO. Shopify has made it relatively easier to set up a store, it has saturated the online market with many online shops. 
Your Shopify success depends on how well your store ranks on various search engines. Shopify SEO plugins make it a lot easier to push forward your shop on the SERPs. 
Optimize Your Shopify Store for Better Leads
A search engine optimized Shopify store generates better leads as it redirects potential clients to your store. A complete optimisation process includes incorporating the correct keywords but keyword density, page speeds, error page optimization, product ads, backlinks, meta tags, and much more. 
What are Shopify SEO tools/apps?
These apps assist boost SEO without time and effort. They improve the quality of traffic and also quantity. Apps can do the work without learning the whole book of processes about SEO.
15 Best Shopify SEO Tools and Apps (Paid)
We have curated the apps that give you the best-paid experience.
This app has over 382,000 downloads in the app store. It is the most tested and common app used by store owners across all niches.
The app has been up since 2015 and has been providing assistance with pushing products to the top list of SERP. the app is a no-code installation, which means it's just a click away. It gets ready in a few minutes to boost your SEO.
Key features of Booster Apps

One-click optimization.
Automated SEO.
Great tech support.
2. SEO Booster - SEO Marketing by Secomapp
Secomapp can be used by beginners as well as professionals. It stands true to its name and boosts SEO. It constructs data in such a way that it is easy for SERPs to read them. It automatically detects and solves all SEO problems. The app perpetually updates its keyword list.
Key features of Secomapp
Checks and fixes SEO issues regularly.
Structures data seamlessly into your store.
Automatically updates ALT text for new pictures.
Is compatible with Google Search Console and Google Analytics.
Continuously updates keywords.
Automatic SEO optimizer.
One-click install for SEO.
Great SEO tech support.
Bulk edit product image ALT text.
Auto scans duplicate content.
3. Plug in SEO by SureSwift Capital
Plug in SEO by SureSwift Capital – the app is trusted by over 30,000 store owners. Attracting quality target audience is a lot easier with plug in SEO. offers comprehensive data in JSON-LD format includes new articles, SEO link list, contacts, etc. The app also offers templates to customize SEO data in minutes. The app has a built-in Google search console that lets you analyse store rankings and traffic data.
Key features of Plug in SEO by SureSwift Capital
Optimize SEO for products, pages, blogs and different pages.
Support SEO meta titles, description templates and keyword data.
Scan and fix SEO bugs.
Monitor organic traffic.
404 error page redirects.
Detailed report on SEO, blog and site speed.
Is a multilingual app.
4. Smart SEO by Sherpas Design
The app automatically generates meta tags and ALT tags. The app also allows you to manage store sitemap, some features which Shopify doesn't allow. All your broken backlinks are identified so you can fix them and bring the number higher on SERPs.
Key features of Smart SEO by Sherpas Design
Create automatic meta tags and product tags for all pages.
Automatically optimize on-site SEO.
Full control over store sitemap.
You can add and remove pages directly from the app.
Detects all broken backlinks.
Compatible with JSON-LD for structured data.
Supports multiple languages.
5. SEO King by Engage Apps
SEO King as its name suggests provides your store with the highest quality SEO leading to sales. The app resizes, squares and compresses pictures without any loss of quality. It also lets you watermark your images which help with image theft. Gets the best SEO results after creating search-friendly filenames and had a strong Google console integration.
Key features of SEO King by Engage Apps
ALT text manager.
Meta titles and descriptions manager.
JSON-LD micro-data management.
Sitemap control.
Improve images for search.
Scan store for issues.
Optimize the store in just one click.
Keyword manager.
Disables right click for photo theft.
Ready to Chat About
how our Shopify SEO can grow your business?
Many businesses forget the golden rule for ranking, faster loading stores. The faster your store loads the better its ranking on SERPs. Image SEO keeps your image quality high while making the site faster. It adds data to bulk images in just one click.
Key features of Image SEO
Upload ALT text and file name for product images.
Optimize image file sizes and themes, while without losing the quality of the image.
Standardize all images to a square for all socials.
Watermark images.
Redo option available for undoing mistakes.
7. SEO Assistant by Buymaxx
Now you don't have to manually enter meta tags or ALT tags for all images, products and pages as the app has a bulk edit feature. The app also scans all pages to detect broken links and detect issues and invalid web pages. You can instantly fix hundreds of pages within minutes.
Key features of SEO Assistant
Bulk edits and meta tag optimizer.
Flexible SEO settings for bulk pages.
Automatic meta tag generator.
JSON-LD structured data.
Detects broken links and error pages.
8. SPO (SEO Product Optimizer) by SillyCube Technology Ltd
The app scans your competitors' stores to get the best keywords available in your niche. You can then choose suitable keywords with high search volume, it also provides advice about the keywords in case you are not sure which to pick. The app also lets you change product links without any coding knowledge.
Key features of SPO
Custom Facebook and Twitter link previews.
Niche keyword suggestions.
JSON-LD integration.
Bulk edit link previews for products.
Suitable SEO advice.
Keyword insertion.
9. SEO AMP by Shop Sheriff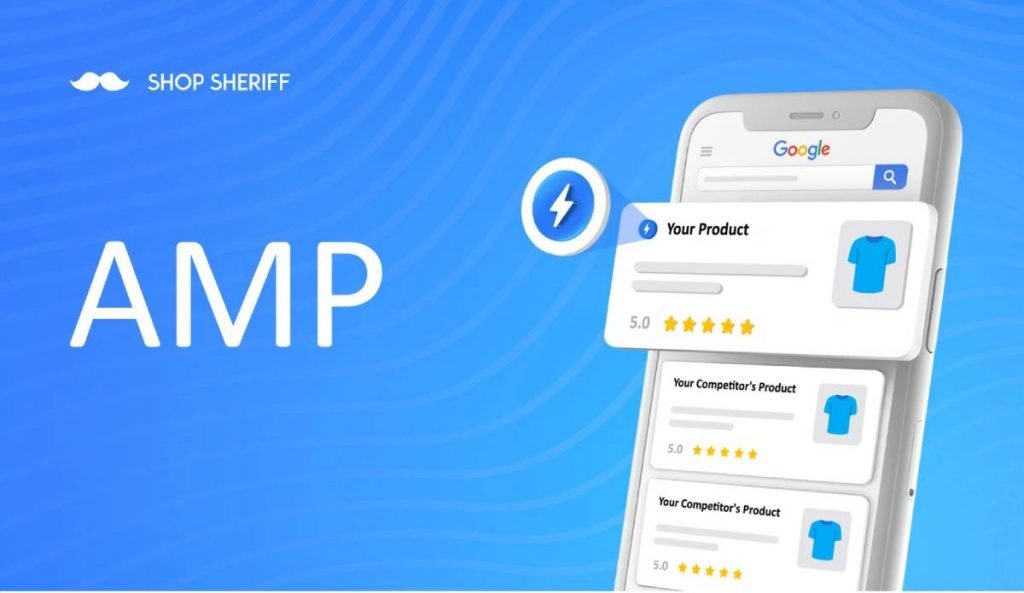 This app specialises in Google AMP, Amped pages, speed and SEO with AMP. it optimises both desktop and mobile sites. It loads pages instantly and earns a lower cost per click on Google Adwords. It also provides custom CSS and integration with many Shopify apps.
Key features of SEO AMP
Lets you create an AMP specific version for all Shopify pages.
Optimize URLs.
Lets you edit AMP sidebar links.
Google Analytics and Tag Manager integration.
10. SEO Master - Auto SEO Booster by Giraffly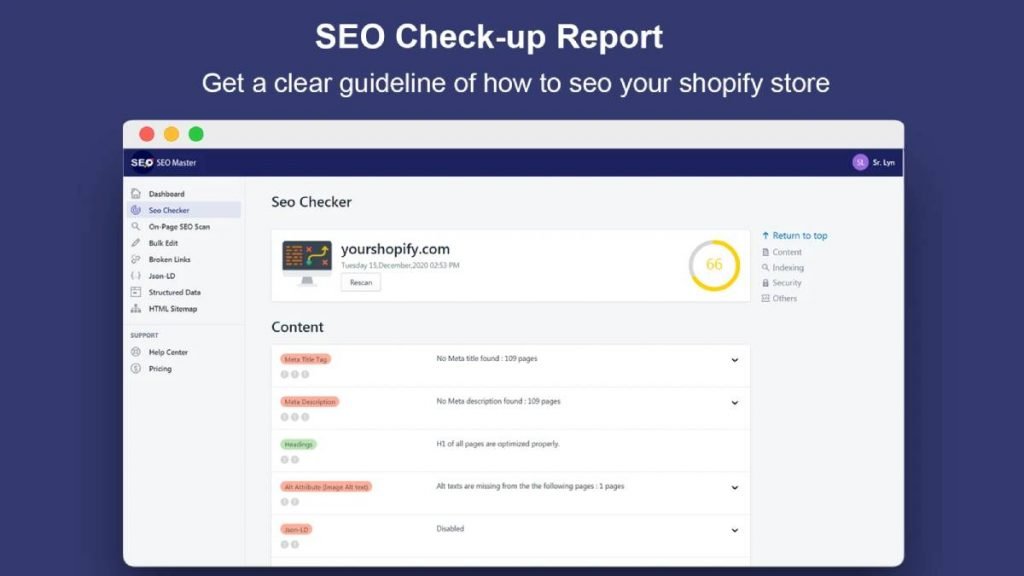 The app lets users manually edit SEO factors in bulk, which are ALT text, title tags, meta description all in one place. It also has automatic optimization for users who don't want to manually insert any data. The app has JSON-LD integration for better performance on SERPs.
Key features of SEO Master
On-page SEO optimization.
Manual and automatic bulk edit.
Automated templates.
Broken link manager.
Structured data amalgamation.
Comprehensive SEO reports.
SEO Manager is arguably the best SEO app out there. It is a great app for beginners, as it offers several pre-made templates for the store. It also provides SEO advice for the store. It allows you to test and preview your store before launching it. This can help you make more informed decisions and fix issues before launch and not after. Of the 20 features the app boasts of, 15 are exclusive to this app alone.
Key features of SEO Manager
Fixes 404 error pages.
Google search consoles integration.
Can make changes without any coding knowledge.
JSON-LD data support.
Mobile testing.
Advanced Meta settings.
Edit titles and descriptions.
It is a keyword optimization app for beginners and advanced users too. Its best feature is that it provides you with a competitors content analysis. Any and all competitive edge is a step closer to your goals. Gives a detailed overview of the top 10 results for any Google keyword. It also provides information on what kind of content is being made by competitors. It accumulates details from over 170 countries for both mobile and desktop keywords.
Key features of Reload SEO
Shopify keyword search.
Keyword tracking.
SEO performance dashboard.
Backlink analysis.
Store monitoring.
Content and traffic analysis.
13. Tiny Img SEO optimizer
Aesthetics do play an important role in stores sales, but what is even more important is that the images are not too big. Big images slow down the load speed of the site and customers lose interest as quickly as 3 seconds. It compresses your images upto 70% without losing any quality.
Key features of Tine Img SEO optimizer
Template and image optimization.
Improves image SEO.
Best image file format options.
User friendly.
It is a one-stop app for all SEO needs. You can edit, analyse and optimize, title tags and meta titles for products. It offers customized recommendations for keywords of your niche. It points out products that lack SEO optimization. It incorporates Google Search Console, Google Webmaster Tools, and Google Analytics. The app includes a bulk editor which can make changes to thousands of products with just a single click. It offers an SEO score analyser and keyword suggestions.
Key features of FavSEO
Site rank tracker.
SEO audit for SEO scores.
Bulk editor.
Sitemap integration.
Live chat support.
Keyword recommendations.
We saved the best for last. The developers of this app earlier worked for Google. They give you search results as no other app can. It is not your basic app that gives normal SEO integrations, they have advanced settings where you can add markup code for your site. It helps in faster indexing and better search results. It adds rich content to your product descriptions and your users can see star ratings on Google. This is the only app that reports review content to Google. This will make your store look more professional.
Key features of SchemaPlus
Automatic content markup.
Better site indexing.
Free trial.
User-friendly integration.
Great customer support.
Best Shopify SEO Apps (Free)
1. SEO Suite Free by AVADA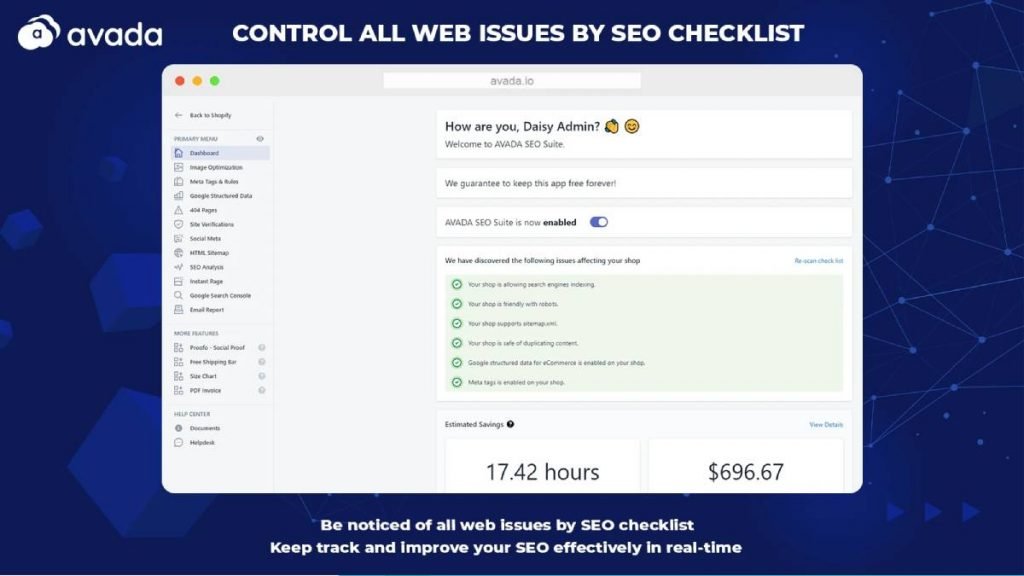 Websites can be slow for a number of reasons. Google ranks slow websites low. High-resolution pictures can be one of the reasons for slowing down the website, broken links, bad social links,
Avada is a comprehensive solution for an optimized website. It will assist with images, structured data, HTML sitemap, and metatags. The app lets you auto insert ALT tags while compressing images to speed up your website's load time. The feature auto-add Google structured data which will let Google read the content easily and prioritize the content on SERPs. All this at no cost. As if this wasn't enough, their customer service is lightning speed.
Key features of AVADA
Optimize image ALT tags, these tags are automatically added on all pages of the website. Product and collection page and blog post.
Meta tags and rules automatically optimize meta titles and descriptions
Site confirmation verifies your website authority with different sites.
Social tags add social meta to display page previews on different social media channels.
404 error pages allow redirecting error pages to a specific URL.
HTML sitemap will help your users navigate the site easily.
SEO analysis recommends solutions for product pages with problems.
Incorporation with best Shopify apps.
2. SEO Plus by Varinode, Inc
It is a content-centric app. The app allows users to publish fresh content frequently. It blends top keywords into the content making it SEO friendly. It also allows users to modify code by themselves. This means the absolute privilege to make your store look as you prefer.
Key features of SEO plus
Updates brand new content automatically.
Full modification of displayed content.
Can be accessed from any device, laptop, mobile or tablet.
Optimizes all organic keywords.
Coding helps with further customizations.
Is a multilingual app.
3. SEO JSON-LD Boost by Verge Studios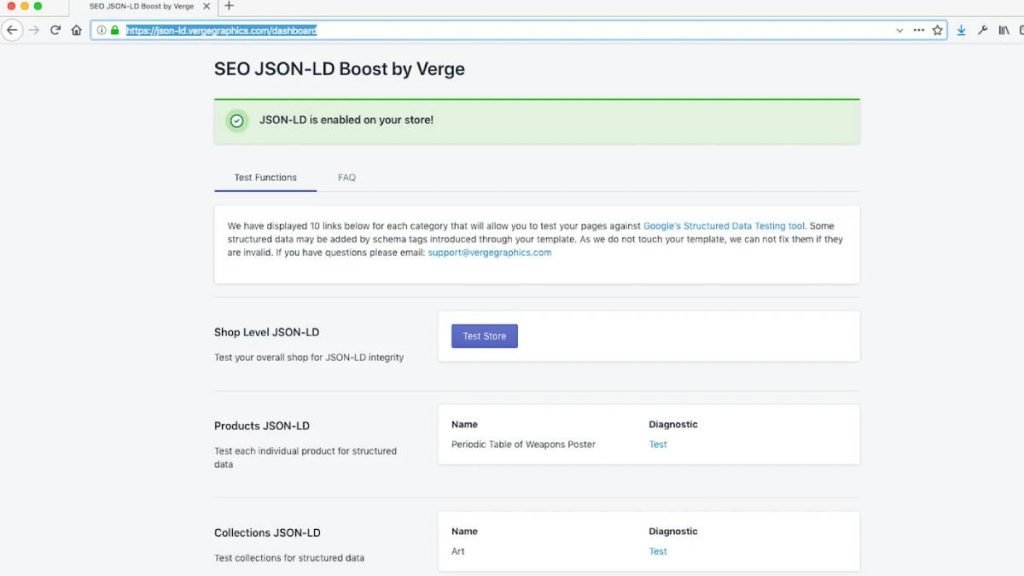 If you want to improve your ranking in just one click SEO JSON-LD is your best friend. Not only is it a free app, but it also solves all SEO problems in a click. It automatically adds structured data to your store. This doesn't make any changes to your templates. The template files are not read or edited in any sort of way.
Key features of SEO JSON-LD
Provides various tools to improve SEO for Google.
Adds structured data to the website automatically.
Inject data into your javascript.
Doesn't modify templates.
4. SEO site audit, Benchmark Hero
Benchmark Hero improves visibility on SERPs by giving you a detailed analysis of your site and letting you know what works best for you. It provides reports of individual pages and why they aren't performing.
Key features of Benchmark Hero
Gives tips and tricks to improve SEO.
Is easy to install.
Gives a comparative analysis of other stores on Shopify.
Is easy to use so if you are a beginner this is a great app.
It is a marketing automation tool that connects to your Shopify store. Klaviyo helps you send targeted communication in seconds. It stores customer data for seamless and more personal communication. Trigger Flows based on dates, events, list membership, or segment membership and use splits, filters, A/B tests and more to target and optimize.
Key features of Klaviyo
Build automated email sequences.
Free for 200 subscribers and 500 emails sent.
Gets customer feedback for a better overall shopping experience.
These are the best SEO apps you can use for your Shopify store without any effort and knowledge of SEO. we will make sure to keep this list updated for you. You can contact us if you have any questions about the blog or any app. These apps will save you tons of time and money. They streamline the process and help you concentrate on your sales and niche.
My name's Semil Shah, and I pride myself on being the last digital marketer that you'll ever need. Having worked internationally across agile and disruptive teams from San Fransico to London, I can help you take what you are doing in digital to a whole next level.